Detailed introduction
Specification:
Color : Silver-Gray,cut in silver
Assay : 99.7% min
K : 0.04% max
Ca : 0.04% max
Fe : 0.001% max
Cl : N/A
Packing & Delivery 150kg/drum, 12Mt/FCL,
Dangerous goods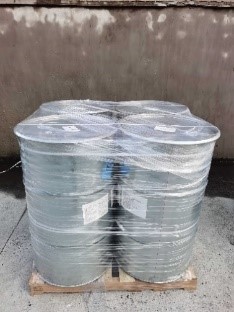 Application
√ As a reducing agent. It is used to reduce titanium, zirconium, niobium, tantalum and other important metals used in defense industry from their fused halides.
√ As chemical raw materials. For the production of butadiene rubber, sodium hydrogen, sodium peroxide, sodium cyanide, sodium carbonate and other sodium compounds,
√ Make alloys. An alloy of sodium with mercury, sodium amalgam, used as a reducing agent in organic synthesis. Sodium lead alloy, used in the production of gasoline antiknock agent. Sodium potassium alloy, used as a coolant and heat exchanger in nuclear reactors.
√ Be an electric light source. The yellow light of sodium vapor is strong through fog, and the high pressure sodium lamp made of sodium is widely used in highway lighting.
√ An isotope of sodium.Na-24 is radioactive and is used for radiotracer analysis in biological research.